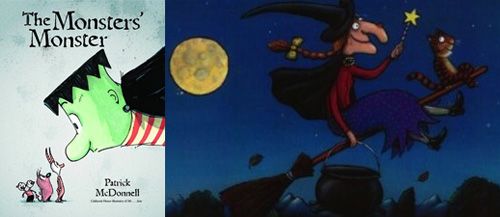 Monsters spell trouble if you have young children. Whether they are wreaking havoc in their dreams, in their closets, or in a movie they watched, monsters will keep your kid awake and rob you of your sleep. Unless the monsters they are acquainted with are the more friendly kind featured in New Jersey native Patrick McDonnell's newest children's book
The Monsters' Monster
.
"...like so many contemporary monster books for children, it riffs off horror classics past, ensuring that parents will like it equally well." -
The New York Times Sunday Book Review
McDonnell, an animal lover, is the creator and illustrator of the
daily comic strip Mutts
. He's also written several children's books within the last several years including
South
(2008) and
Me...Jane
(2011). In his most recent lighthearted book, his Frankenstein monster is far from a monster, and this book has a positive message for kids. It won't scare your kids, and it also comes just in time for Halloween!
*McDonnell was born in Elizabeth NJ and grew up in Edison, NJ.