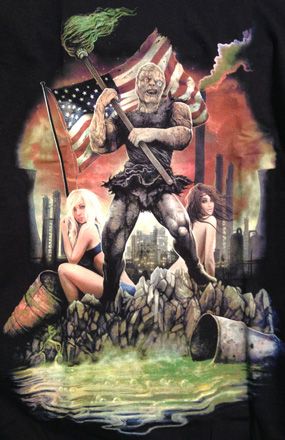 The always eloquent Darth Vader once said, "It is pointless to resist..." and I've proved him right. Early on, there was a time when I tried my very best to look away whenever the horror t-shirt company
Fright Rags
released a cool new special edition shirt, but within the past few years, they've beaten me into submission. There was absolutely no way I could deny some of their amazing limited run shirts, including
Friday the 13th,
and their KISS inspired
KILL tour shirt
. Today, I'll show you one of their most recent tees, an "Almost 30th Anniversary" Toxic Avenger edition.
Fright Rags enlists only the best artists to provide artwork on their t-shirts, but unfortunately I have no idea who the credit goes to for this superb work. This Toxie shirt is a prime example of the high quality and attention to detail that Fright Rags has become synonymous with. I've seen and owned so many mediocre shirts with my favorite characters on them through the years and this one blows most of them out of the polluted water.
On the front of the shirt, Toxie stands tall over a river of bubbling chemicals, mop in hand, in front of the American flag and chemical plants in the distance. Two hotties kneel beside him. This is some incredibly dramatic...and smelly stuff. To make it official, the Troma logo is on the back of the tee.
Toxie fans will be delighted and should show their appreciate that Fright Rags paid such an excellent tribute to the Almost 30th anniversary of the FIRST Superhero from New Jersey! At the time of this post, I've come to the point where I handed Fright Rags over my bank account information so they can just speed up the process of getting me these masterpieces in the future.